Manager of Carlton Cycles 1960-1973
Credit for this page must go to Simon O'Donovan and to Dave Marsh, whose reminiscences formed the basis for the information below.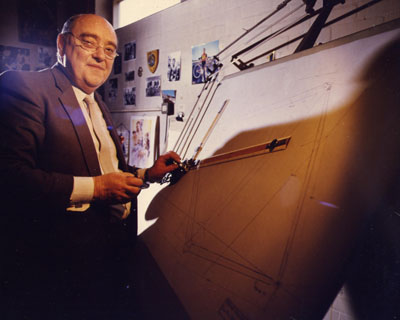 Gerald O'Donovan working at his drawing board
Gerald joined Carlton on leaving the RAF in 1958. He was a dynamic individual, an ideas man and a talented designer.
Following the Raleigh takeover he was manager of Carlton until 1973, when he took charge of the Raleigh Special Products Division at Ilkeston.
In July 2005 Simon O'Donovan, grandson of Gerald, questioned Dave Marsh of Universal Cycles, a former Carlton employee, about his time at Carlton and his memories of Gerald O'Donovan.
When did you start at Carlton, Dave, and in what capacity did you work there?
I was employed as a cycle assembler in August 1965, mainly building wheels. Gerald was a friend of my father and I believe it was in 1961 when we first met. I left Carlton on the 29th February 1980 (Leap Year). I have always been keen to keep the Carlton name going for the enthusiast, in renovating bicycles.
Gerald O'Donovan did quite a lot at Carlton and Raleigh Bicycles. Is there anything that sticks out in particular, that showed he had a few hidden talents, or was he one to try to use any new innovative idea that came into his head and put it into practice?
Gerald was the first person to introduce carbon fibre in cycle design. Sand Yachts in Reynolds 531 tubing and disc wheels were also an idea he seemed very keen to introduce whilst at Raleigh. The idea was revolutionary at the time, but it was probably shelved by Raleigh, as it wasn't going to be much of a money maker for them. The well known Raleigh Chopper had a design which entailed a prototype of a sidecar. Again, this wasn't a venture that Raleigh wished to pursue, so only four were ever made. There is simply too much to say about each of his designs, as there were simply so many.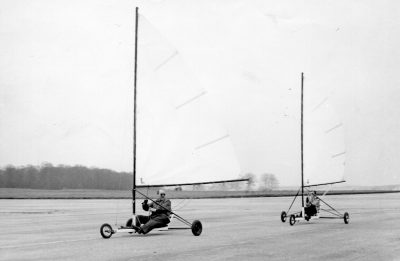 Land Yachts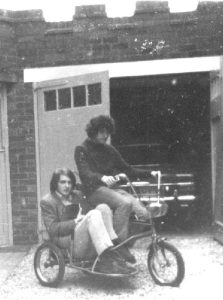 Raleigh Chopper Sidecar with Simon's father in the sidecar
As Gerald was my Grandfather, you end up being a little biased. Therefore, I thought of him as one of the best designers of bicycles there was. This is common practice for any youngster, as you always tend to look up at your family as an example. In this case though, I guess he wasn't your average Grandfather was he? Personally speaking, I found him a little difficult at times, as he wasn't one to open up very much and treat you like a Grandson. I'd say he preferred to try and treat you as an adult, possibly to speed up the teenage process. How did you find him on a personal level?
To any newcomer visiting the Factory, he would behave in a very simplistic, but profesional way. When asked how I built a certain product in front of the visitor, I suppose jargon would be common practice, but Gerald would ask you to stick to basics so they could understand everything. He was an extremely persuasive character and if he said black was white, people would believe him. Many people would come out of an office rather stunned and confused, even if they were right. In my mind, he would have made a very good Politician.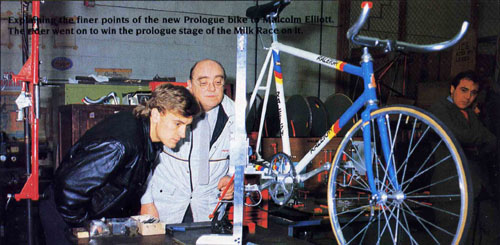 Gerald explaing the new Prologue bike to Malcolm Elliott who later won the prologue stage of the Milk Race on it
What is your best memory of Gerald?
Following the disastrous fire in 1962 at the Dock Road site, when a derelict building was going to become a factory for Raleigh in Kilton Gerald was much involved. The turnaround was unbelievable. Gerald even rolled up his own sleeves to muck in, to help complete the project. He was certainly a man who valued his workers.
What keeps you particularly interested on the subject of bicycles? I appreciate the fact that historic items should be preserved, so is that your motivation to keep you in this business?
An Enthusiast through and through, It has been my life. My family has always been involved in Cycling, just like Gerald's was. I have competed in many events at perhaps a modest level, but you always want to be the man at the front at the finish. I stopped any serious competition in 2000, but still keep involved as I have gained many friends over the years as a result. I love my own work that I do and can't even think of when that might come to an end.
Going back to Gerald, one thing that really stays in my mind is how he would push when doing a job, saying if you do it right the first time, you don't have to do it again. I always found there was great motivation in going to work at Carlton, perhaps with that family type of atmosphere which could hardly put you off, even when you were having a relatively bad day for some reason or other.